Had another good roadtrip out west to the Stad-land. A wave of summer just hit the country, and at the same time some sets of good waves from the North Atlantic came in. That means throw some stash together, get in the car and head out west.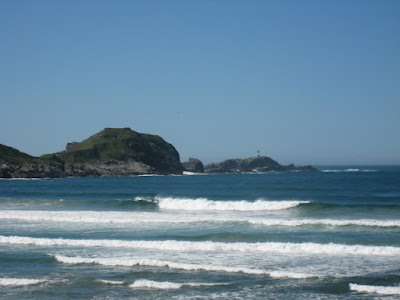 E-bay on Saturday, another nice one goes unridden.
Friday afternoon we left Oslo and came to Stryn just in time for a warm welcome and some classic BBQ-ing at the Graff house. Then a little trip to Folven for some attåt and the next thing we know it is morning and time to get back on the road and hit the ocean. At E-bay the waves were looking pretty good and there was plenty of room in the water. Banks are not too good at the moment so it was peaking everywhere anyway so it was every man was for himself and full on gambling for the ones who did not close out.
Graff: Another word for Hygge. Only thing missing was the
minigraver
. Thanx
Johan
, Henke and the others!
If the waves were good then the weather was perfect. 100% bluebird, 18 hrs of sun per day, and bikini temperatures. Hoddevikawaii here we come. Between surf sessions the only thing to do was fry some skin, grill some hotdogs and get ready for the next session. The swell did not last forever so it was all about gitting as many sessions as possible the first days.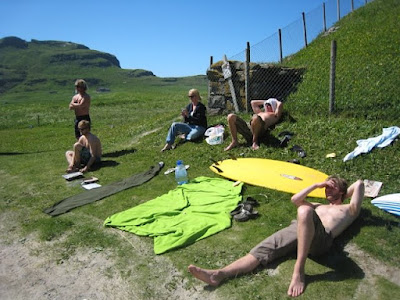 Frode-fashion, Kjøttulf, Jallis and Ola chilling between advanced bathing sessions in E-bay. As clearly can be seen in the picture there were also lots of hot blondes surrounding the surfers theese days.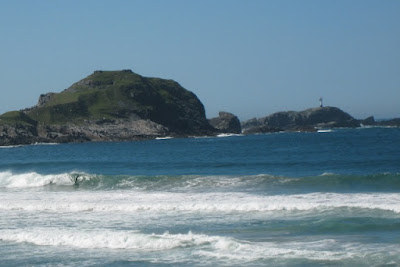 Kittil catches a nice left from the shipwreck.
Thanx to Simen @
Lapoint
.
Stad: We'll be back. While we are waiting, what about some singletrack mountainbiking? Stay tuned! -Torkel
Share this story on Facebook