Marius on top of a snow covered mountain in October, somewhere in the outskirts of Jotunheimen, Norway.
The snow has come to the mountains of Norway. Jørgen J aka doctor-J-master and Marius eiendomsmegler Flaaten have been skiing pow around the Beito-hood while Camilla aka the freeride doctor has been jibbing with the family in Hemsedal.

Powder to the... boots maybe? Look out for sharks, they have not eaten all summer.



Analen in hemsedal puts on the first layer of white makeup for the ball.



My is telling David where to put on snow to get the angle right.



And watching mama do the test jump. Switch 270 safety to rail?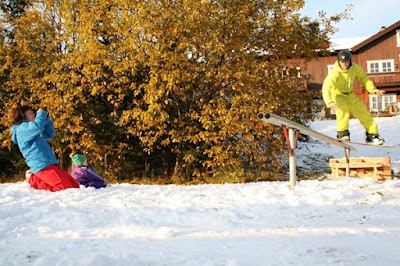 Papa showing what's hot this season: no gloves and no goggles.

-Bigtrix dot com, winter 08/09
Share this story on Facebook